Episodes
Thursday Nov 21, 2019
Thursday Nov 21, 2019
In this episode, Bob & Kevin kick things off discussing all the various streaming services that are popping up as fast as javascript libraries were a couple years ago. After the break, they get into the meat of the episode and discuss the topic of algorithmic bias and the recent accusations against the Apple credit card and Goldman Sachs.
Feel free to reach out to us on twitter at https://twitter.com/bobandkevinshow and let us know what you think. If you listen on Apple Podcasts, please consider giving us a star rating and/or leaving us a review - it is greatly appreciated.
Thanks for listening!
- Bob & Kevin
Thursday Sep 12, 2019
Thursday Sep 12, 2019
Wow did we cover a lot this week! We started with a rant from Bob on the near instant ban of flavored vape juice products in the wake of 7 deaths and still nothing to be done about guns in this country! We then moved on to discuss the recent iPhone 11 and the iPhone Pro - as you can imagine, neither Kevin, nor Bob are fans of most of what apple had to announce - but Bob expressed some interest in one of the new streaming services.
We also talked a little about a new Netflix show all in Russian and about sex bots... that was interesting! Oh, and we cannot forget AlienStock, also known as the new Fyre Festival :)
As always let us know what you think of the show by hitting us up on the tweeters! 
Seriously... DO IT!
https://twitter.com/bobandkevinshow
Love always, Bob and Kevin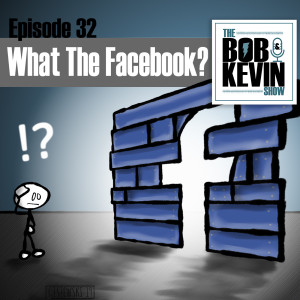 Tuesday Mar 26, 2019
Tuesday Mar 26, 2019
Join your favorite technology consumer advocates Bob & Kevin as they discuss Facebook giving us a real-time, Black Mirror prequel. Bob & Kevin also take a deep look at the "new monopoly" in tech, which is basically coming up with the most ubiquitous platform imaginable... hardware, software, original content... you know, what Apple is trying to become with the release of their fill in the blank plus original content platform. Oh, wow, guess what, this is also straight out of a potential Black Mirror prequel... have you seen 'Nosedive'? or watched our YouTube episode - https://youtu.be/wX-_GNGZXG8 ?
Like what you are hearing? Have a topic you want us to cover in an upcoming episode? Drop us a line at https://twitter.com/bobandkevinshow
Until next week!
Bob & Kevin